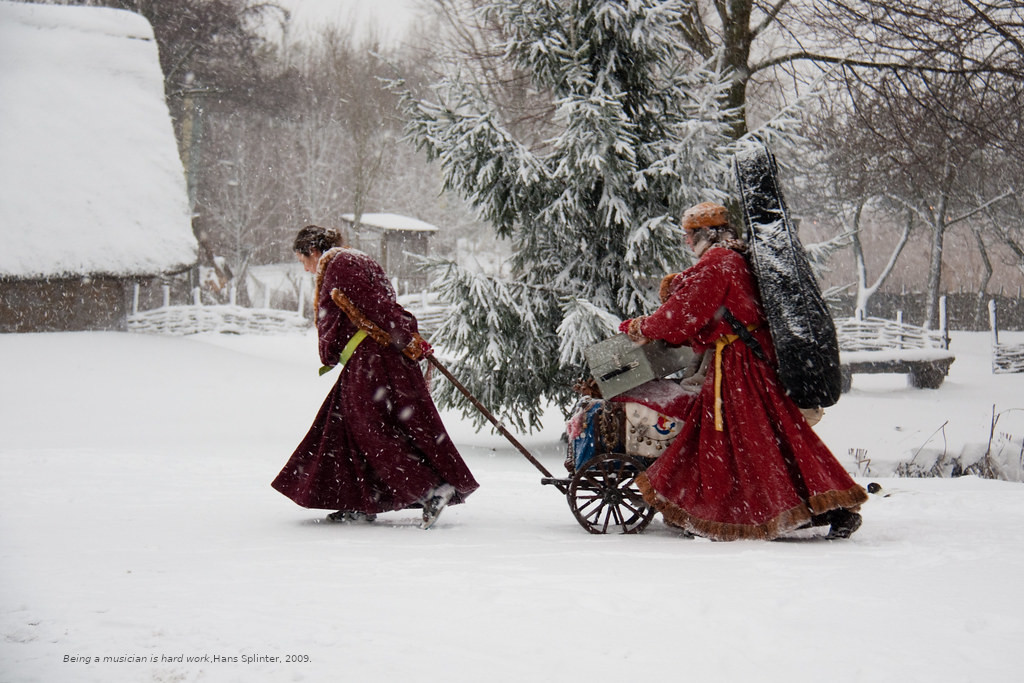 by David Carson
---
We had been rehearsing since Christmas and now, two months on, we felt we were starting to create the performance that would both do justice to Schubert and satisfy us and our audience.
"Karel", he had said, "with twenty-four songs, we have time and scope to build tension gradually."
I wasn't sure. "But Antonin, you know that the first song doesn't just set the scene. It seems to summarise what will follow. The traveller is leaving the woman he loves. He writes 'good night ' on the gate of her house. Why is he doing this? We need to find the right tone that will answer this question."
"I don't believe there is 'an answer.' That's the beauty of the cycle. Enigmas abound."
It wasn't a disagreement, more a discussion to arrive at an acceptable interpretation of this wonderful work. We had however a big decision to make, something we had been skirting around but which we knew could not wait. It was Antonin who broached it.
"Should I sing in English, or in the original German?" Before I could answer, he continued:
"listen to this, Karel , from the first song – 'ich kann zu meiner Reisen nicht wahlen mit der Zeit, muss selbst den Weg mir weisen in dieser Dunkelheit'
I nodded. " I think the decision has to be yours, Antonin. You're the one who is the singer."
It was as if he hadn't heard me. He went on – "now compare the English translation: – 'I cannot choose the time of day, my journey to begin, I have to find the way myself into this darkness dim.'"
I knew which one I preferred, even though the echo of history still resonated, as it did with most of my countrymen. It was Antonin who took the pragmatic view.
"The concert is taking place in London. I'm not saying the English are ignorant, but linguistically they're, hm, undeveloped. I think we have to go with the translation."
"I know your English is good, but this means you'll need to be confident with the pronunciation and…"
"and you with any changes of rhythm," he interrupted.
We were both engaged now in the project. Song by song we analysed the words, debated their sense and experimented with stress and intonation.
"You know Karel, the more we rehearse, the more meaning I find in the words. And the more I realise the whole cycle is a metaphor."
I smiled. "You're getting in deep, my friend." And I couldn't resist adding "it's an allegory surely."
"Whatever. It's no more than the cycle deserves. We're singing and playing here about the eternal outsider – outside society, outside relationships, outside justice."
I nodded, but if I had known how prophetic his words were, I would have wept.
At the outset, being the practical side of the partnership, I had talked to Antonin about the steps we needed to take to perform abroad.
"We'll need a work visa. And we must apply in plenty of time."
"Surely just a question of filling in a few forms. We have the invitation from the organisers."
"Not quite. We need to find the right category of visa. Just to say that we're performers isn't enough."
"So what do you suggest?"
"Well, I've been doing some research online. It's a bit complicated, but I think we should base our request on the 'exceptional talent' strand."
"Is that not a bit presumptious?"
"No, it's a broad category. There are two thousand places available each year."
Antonin laughed. "That's a lot of talent descending on the UK."
"And I'll make sure we're among them."
And I did. I was modest, indicating that we were 'emerging talent', even though we were seasoned performers who had several recitals and concerts under our belt, albeit mainly in Poland and neighbouring countries. Our reputation had travelled further afield, even if we had not. This would be our first foray furth of mainland Europe. I sent off the documentation, along with photos, confident that it would be accepted.
One day few weeks later I arrived at our rehearsal room. Antonin looked at me.
"You have news. I can tell. Show me."
I took the letter from my pocket and handed it to him. "So this is what a visa looks like"
He stroked the laminated sheet. "Very official looking. I don't understand a word, but I see our two names side by side." He handed it back. "You keep it Karel."
"I will. Everything is falling into place." I sat at the piano. "So, where were we?"
My mother had been unwell for some months. Leukaemia, they said, but nothing to worry about. In someone of her age, the progress of the disease will be slow. She could still get around, and she had started to come to our rehearsals.
"That Antonin," she said, "has the voice of heaven in him. What does he sing in one or the verses? – 'love loves to wander, God made it that way.' That describes him perfectly."
I waited. When she said nothing more, I asked, " and what do you think of my accompaniment, mama?"
"Fishing, are you?" She had her customary twinkle. "As always, up to the task."
I let it go at that.
A week before we were due to travel her condition deteriorated. The specialist treating her was not optimistic.
"This is unexpected." He shook his head. "The cancer has taken an aggressive turn. Nothing we are doing is making any difference." He looked up from his notes. "You will have to prepare for the worst."
"But surely…"
"It's a matter of days."
"You can't leave her, Karel. You must stay with her. And I will not travel without you, it's out of the question."
"And let everyone down? No, I've contacted the festival, they understand, but they say they can provide another accompanist. And you'll have a couple of days working together before the performance."
"No." Antonin walked up to the piano. He touched the keys, turned a page of the score. I could see he was wavering.
"You know there is no alternative, Antonin. I have to stay, obviously. But you, you can, you must, fulfil our obligations."
Before he could say anything more, I added, "and I've sent an email to the visa people explaining the situation."
It was early morning, and it was snowing. I drove into the airport car park. Antonin checked his briefcase.
"Music. My notes. Letters. Money. List of names and addresses. That's me."
I understood his business-like tone. "But don't forget this." I handed him the visa.
It was still snowing when he returned late at night on that same day.
"They were awful. I got off the plane and went through what they call homeland security. I showed them my passport, and the visa. They took me to a room. It was small, no windows. There were two of them. Then it was questions, questions. Why was I here, where were you, what was I here for, how could I prove it. I showed them our invitation to the festival, told them about your mother. Said you had written explaining what had happened. They said they knew nothing about that. Said the visa wasn't valid because it had two names and I was on my own. I asked them to phone the festival organisers, they would confirm, they said it wasn't their job. They were there to stop – and this was the word they used – undesirables – from entering the UK.
And they spoke quickly. I had to keep asking them to repeat things, speak more slowly. I could tell they didn't like that. Finally one of them picked up the visa and waved it at me. 'So', he said, and I could hear the sarcasm in his voice, 'you're an emerging talent. How can you prove that?'
At last I thought I would get through to them. I pulled the music from my case. I chose a song. The sixteenth in the cycle. 'Last Hope.' About the leaf falling from the tree. I thought they might have seen how appropriate it was. And I sang. The room reverberated. I sang as well as I have done throughout all of our rehearsals. But I made a huge mistake. I was stressed, I wasn't thinking clearly. I sang in the language the song had been written in. I sang in German.
Means nothing to us, they said when I had finished.
I was escorted on to the plane. I was watched by cabin staff until the plane took off. And here I am."
Antonin sat, hunched with his hands clasped on his lap. We were silent for some moments. Then he straightened his shoulders. "At the end of the day, Karel, art is more important than the artist. We worked so hard, you and I. But the cycle, Winter Journey, will still be here after we're gone. And the first song says it all:
'I came here a stranger, and a stranger I departed.'
David Carson July 2019